On-Demand Label Printing
Single pass print, label & pack work stations. This means one operator, in a single process, can print and apply labels to bottles, cans, jars or any round product container, and then box and load them onto pallets, ready to ship, in sync with your orders.
Did you know a single person can print a label, apply it to a bottle, pack, seal and pallet boxes ready for delivery, at 18 bottles p/m, that's over 1000 bottles per/hr, or 8 thousand plus bottles per day, the equivalent of 10+ pallets of wine in a single 8 hour shift!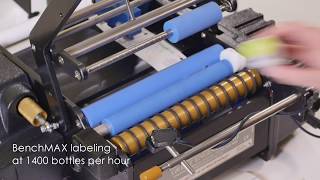 Labelling & Printer Integration
Labelling & Printer Integration