Labelling Machinery
Manual and electric models, suitable for labelling bottles, cans, jars, vials or any cylindrical container.
Our bottle labelling machines are used by world leading brands like Chivas Regal, Aesop, Carlton United Breweries, Schwarzkopf & many others, who value trouble-free reliability and precise label placement from their label applicators.
The GE Labelling machines, used for applying pressure sensitive labels, are a new breed of machine providing "on demand Labelling."
Ideal for the following markets:
Whisky – Spirits – Beer – Wine – Food – Pharmaceuticals – Cosmetics  
BenchDELUXE Labelling Machine
On-Demand Label Printing High throughput, high production with guaranteed label accuracy. This versatile industrial machine will reduce your double handling by at least 3 times. Straight out of the box you can be labelling within 4 minutes on any product. Simply said, the BenchDELUXE will comfortably apply any type of label on any round container.
BenchMAX Labelling Machine
Most Advanced: The BenchMAX is our highly advanced and high-speed labelling machine in the Great Engineering range. Our fastest and most flexible bottle label applicator, it labels all container diameters larger than 8 mm (3/8 inch). Suits businesses that label from 150,000 up to 1,000,000+ containers per year.
BenchMARK Labelling Machine
Advanced Machine: The BenchMARK semi-automatic Labeller provides excellence and simplicity in label application. Will suit businesses that label from 10,000 up to 250,000+ containers per year. Labels any bottle, jar, can or round container with a diameter larger than 55mm.  
BenchMATE Labelling Machine
Small Miracle: The BenchMATE is a small, robust and portable hand operated manual labeller. Perfect for start-up's & boutique manufacturers labelling bottles, jars, vials or any tubular containers with diameters larger than 18mm or larger than 55mm
Please contact our Sales Team a call on 01294 215058 for a Quote or more information.

Print & apply full colour labels, then box, pack & pallet, in one seamless production process!
Full integration between our Labelling Machines and your choice of printer!
Single pass print, label & pack work stations.  This means one operator, in a single process, can print and apply labels to bottles, cans, jars or any round product container, and then box and load them onto pallets, ready to ship, in sync with your orders.
Did you know a single person can print a label, apply it to a bottle, pack, seal and pallet boxes ready for delivery, at 18 bottles p/m, that's over 1000 bottles per/hr, or 8 thousand plus bottles per day, the equivalent of 10+ pallets of wine in a single 8 hour shift!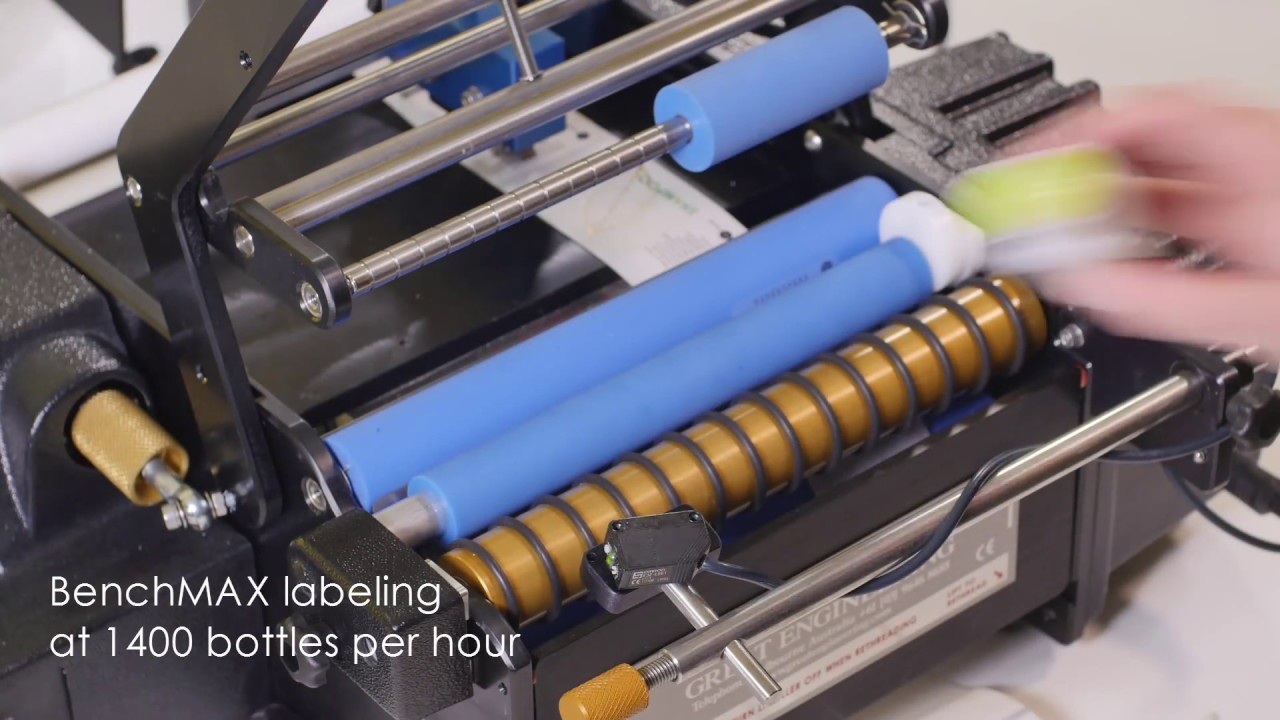 Labelling & Printer Integration
Labelling & Printer Integration
Multiple Market Segments with numerous container types!   
Whisky

Beer & Cider

Wine

Cosmetics

Food

Pharmaceutical

Labelling Machine for Food Jars

Candle Jars
Whisky

Beer & Cider

Wine

Cosmetics

Food

Pharmaceutical

Labelling Machine for Food Jars

We modified this labelling machine to suit a jam jar with a larger lid.

Other options available include special stops and grooved rollers to accommodate your special needs. Here are several jars with larger lids as well as a sauce bottle with a recessed panel. Labelling these is very simple and completely repetitive.

For more information please call us on Tel: 01294 215058 

Candle Jars